Mary Lou Puller, Training Coordinator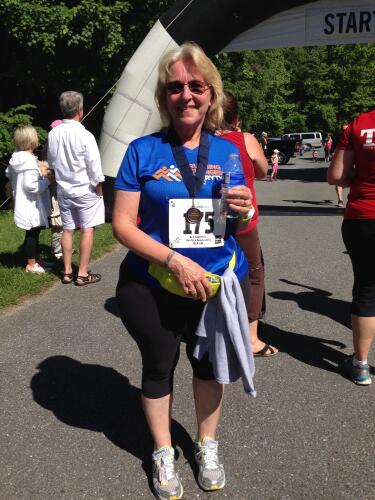 Mary Lou, a Pasadena native, was the perfect choice as the Fleet Feet Sports Greater Annapolis Training Coordinator.  As a 2011 graduate of our No Boundaries program she knows exactly how much the program means to its participants.  She not only understands the benefits of running to get in shape, she understands the beauty of getting in shape with a group.  She understands the benefits of having a coach to guide you and most importantly, she understands the benefits of being held accountable by both the group of runners in our programs and by the coaches and the staff as well.
---
 Sarah Molinar, 10k No Boundaries II Coach
Sarah is a petite ball of energy.  Whether she is running along the B&A Trail with her group or taking them up and over the Naval Academy Bridge, she keeps her No Boundaries II Class on their toes.  But we think Sarah's story says it all.  
In her own words:
"A few years ago my husband got into running to lose weight. He really wanted me to run with him but I just couldn't keep up. I'd go with him to get shoes at our local Fleet Feet Store and the owner would encourage me to join the No Boundaries program with a bunch of other people also new to running. I was skeptical as I was never much of an athlete, but eventually I agreed to join. The owner of that store was also the No Boundaries coach and she ran alongside me for my first 5K where I ran the whole thing.
She was encouraging and motivating and along with the mentors, I was taught how to run. And not just run but take care of my body with nutrition and stretching to help me run. I met so many people just like me who never ran before. And we became a community of new runners. For the next two No Boundaries sessions I became the mentor and got to motivate people and help them learn how to run. Then my husband and I moved to Maryland and the first thing I thought of was how to get involved with No Boundaries in our new location. So I found Fleet Feet Severna Park and became the new 5K No Boundaries coach. Again, I met amazing people and got to motivate and encourage them with running. During our first graduation race at Quiet Waters Park, I ran alongside one of our participants the entire time for her first 5k. This participant has now been in several of our No Boundaries programs and is currently training with our 10K program. This program helps get you on the road to running and accomplishing your goals. I just ran my first 10-mile race in May - something I never knew I could do! All because I joined No Boundaries a few years ago.
Some people come for motivation, others come for community, others come for accountability because they need people to run with - it's an amazing thing to be a part of. I would encourage anyone to be a part of the no boundaries program. Whether you're a runner who's never done a 10K and want some help training or this is your first time ever running, The fleet feet sports is here to support you."
We couldn't have said it better ourselves.