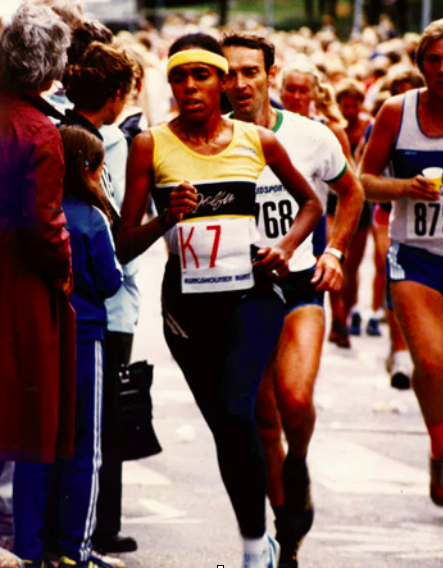 Michele Soderberg Hill
Consistency. Excellence. These are the words that defined Michele Soderberg Hill as an elite marathon presence in the 1980s. Despite steadily racking up ten sub-3 hour marathons in the course of a 15-year competitive career and ranking among the very best African-American female athletes of her era, information about her races is surprisingly difficult to find. Ms. Hill qualified for the 1984 Olympic marathon trials, but she struggled in the brutal heat and did not finish the race. Along the way, she found domestic happiness (and a great training partner) in World Masters Champion (1992) and 2:16 marathoner Dave Hill.
In 2002, she and Dave relocated to Tucson, Arizona, where they quickly became fixtures in the local running community. They co-sponsor the Southern Arizona Roadrunners and founded a long-running distance training group, the Grinders, that offers informal free training for target races. She also promotes community meet-up runs and walks to encourage beginners to lace up their shoes and give the sport a try. Now retired from her job as community relations director for a restaurant in Marana, Arizona, she remains active in the management of the Roadrunners.
(with thanks to Dr. Bridgett Williams-Searle)