Marilyn Bevans (b. October 4, 1949) was ahead of her time in almost every way. In the 1960s, she discovered a passion for distance running when the longest race American women were permitted to run was 880 yards. Prior to Title IX, many high schools and colleges – hers included – didn't even have women's track teams. Those few that did mostly restricted African American women to sprint events. Distance running was a sport for white men…until Marilyn Bevans.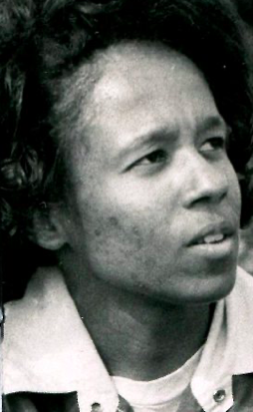 While attending graduate school at Springfield College, Coach Vern Cox invited Bevans to work out with his men's cross-country team. When she returned to Baltimore in 1972 to teach high school gym classes, she began to train seriously with the newly formed Baltimore Road Runners. As before, she was the only African-American at practice and the only woman.
She quickly experienced success. In 1973, Bevans came in second in her first marathon with a time of 3:31:45 (Maryland Marathon, 1973). In 1975, she became the first African-American woman to win a marathon. Bevans quickly became a fixture on the American women's marathon circuit in the 1970s, running more than 25 marathons in her competitive career.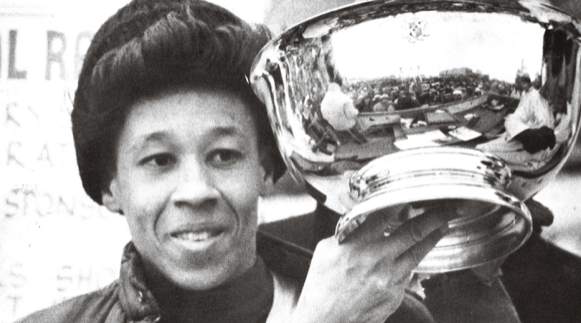 1977 was a particularly strong year for her, as she won both the Maryland (2:51:18) and Beltsville (3:04:22) Marathons and came in second at Boston (2:51:12) and The Mayor Daley (now Chicago) Marathon (2:54:56). Her personal best time of 2:49:56 came during the 1979 Boston Marathon. She ran Boston six times and NYC seven times.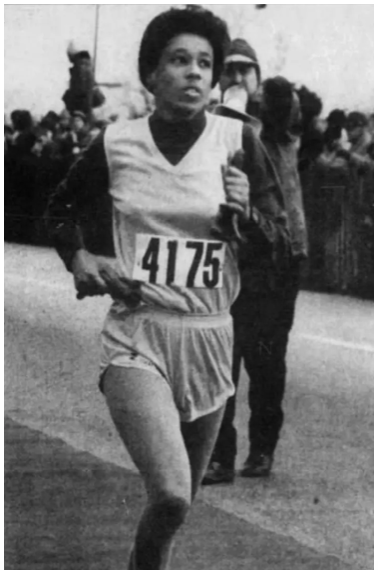 She competed internationally in some of the very first high-profile women's road races, forerunners to the Olympic marathon. In fact, she qualified for the 1984 Olympic trials, but her exercise-induced asthma prevented her from participating.
Her path – as the first sub-three-hour, world-class, female African-American marathoner – was somewhat lonely. Like other runners in the 1970s, she dodged beer cans and firecrackers chucked out car windows, but she was also demeaned by race organizers for celebrating her wins and for beating men in the race. She tuned out racist taunts by training with a transistor radio. Her advice to other women runners (vary your route, your time, try to run with a partner or stay in well-traveled areas) still reflects the challenges that running may present for women.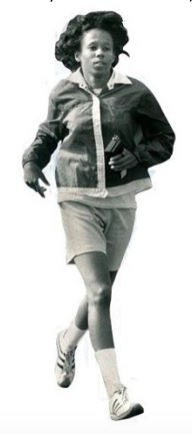 Although she had many important training partners, she never had a coach – a fact that she later regretted. Determined that others should get the benefit of her experience, she founded and coached the Baltimore Suns Track, an age group track team designed to give opportunities to African-American children whose schools offered little encouragement. She also coached at Perry Hall High School, twice winning The All-Metro Cross Country Coach of the Year (1993, 1999).
For her pioneering achievements and contributions to distance running, Ms. Bevans was inducted into the inaugural class of the National Black Marathoners Association Distance Runner Hall of Fame in 2013. Now at the age of 71, Bevans still strength trains and tries to run between 12-15 miles per week.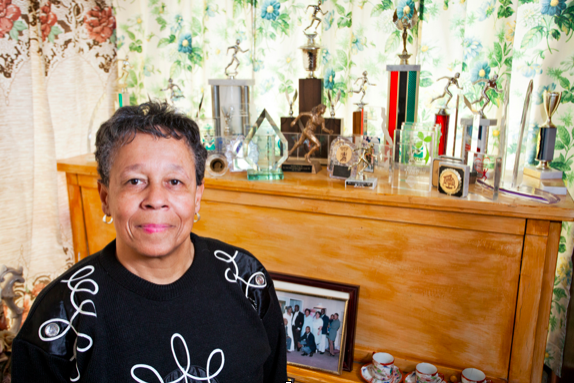 Photo Courtesy of Catholic Review, Archdiocese of Baltimore.
(click here for more on Marilyn Bevans)
(With thanks to Dr. Bridgett Williams-Searle)