If you're over forty-years old and run, you're a "masters runner." Whoopee, you're a master! You've mastered running! Nothing running-related fazes you and younger runners crowd around you hoping to learn your wisdom! Wait, this doesn't describe your experience? Mine either.
As those of us in this category have found out, the word "masters" signifies age, but not necessarily wisdom. While being over forty makes one a masters runner, few of us are masters of running.
In observing the sport and talking to other masters runners over the years, I've identified three main categories of masters runners. Each category leads to different experiences. Importantly, each category has its own challenges and rewards that make running worthwhile.
The Runner For Life
The late Incomparable Ed Whitlock
This guy actually did master running: 2:54:48 marathon at age 73.
Runners for life can't remember a time when they didn't like to run. They participated in high school athletics and have been training and racing consistently. Now that they've reached their masters years, they are dealing with a little bit of a slowdown.
If you are a runner for life, you've experienced a lot of pleasure from the sport. You also have logged quite a few miles and your muscles and tendons have lost a lot of elasticity. This, in turn, means that your running efficiency and economy is in decline. Before you go jump off a cliff to gain some acceleration, realize that you are in very good company.
Bill Rodgers, for example, was initially a very quick masters runner. In 1988, he ran a 2:18:17 at the Boston Marathon for second place among the masters competitors. Rodgers admitted, however, that he got a lot slower after passing his fifth decade, adding ten minutes to his 10K time. He was still, of course, waaaaayyy faster than most of us.
The same goes for elite women such as Joan Benoit Samuelson. Samuelson experienced much success in her late-20s. For example, she won the Olympic Marathon in 1984 and followed that by an American marathon record in 1985 that stood until 2003. However, she began to slow down and never set a PR again after the age of 30. Like Rodgers, Samuelson still runs times to which most of us can only aspire. Samuelson, for instance, entered the 2011 Boston Marathon at the age of 53 and blazed her way to a 2:51:29 finish, earning first place in her age group.
Joan Benoit Samuelson then and now… still very, very quick
Thus, for runners for life, it's a bad news/good news situation. Your fastest days are probably behind you. Yet, there are still plenty of challenges left in the sport, including setting masters PRs. For example, John Tuttle, third in the 1984 Olympic Marathon trials, has set American masters records in the 5k and 8K.
John Tuttle –– still doing it at a high level
With the growing popularity of age-graded times, you can compare your efforts with the nation's best. A 90% age grade in a race is considered to be a world-class performance. Joan Benoit Samuelson's 2:52:10 at the Boston Marathon in 2014, for example, was an age-graded performance of 101.28% –– a little above world class. Therefore, even if your 5K time is increasing relative to your PR at age 25, you can still compare your efforts and recognize that for your age, you might still be running swiftly when compared to your peers. It's easy to take a look at your age graded times by using an age grading calculator.
For the masters runner, age-grading provides a new challenge and a new way to compete against yourself. Some age grading tables also provide adjusted times. If you are a 50-year-old woman who runs a 5K in 21:00 minutes, your age graded time will be 18:46 –– nice!
If you're not a big fan of age-grading ("Hey, I covered a specific distance in a certain amount of time; some computer-generated table isn't going to make me run any faster.") then it might be time to discover some new racing distances. New distances are always a chance to set a new PR. Your fitness profile and the accumulated miles you've logged are particularly helpful in providing the aerobic and muscle endurance necessary for ultra marathoning success. So, if your 5K time is merely bumming you out, consider going for a really –– really! –­­– long run.
The Returner
The second category of masters runners are those who ran competitively in high school and perhaps even college. Then, life intervened. The returners typically took some time off from training to establish their careers and start families, and at the age of forty found themselves getting back into running. Perhaps some specific event has made them aware of their own mortality and they feel there is not a moment to lose…or they just want to get in shape to handle the stresses of aging. (Getting older is not for the faint of heart.)
If this is you, welcome back. It's harder than you remember it being, right? You are not alone. There are quite a few stories of returning masters runners who believed that with some intense training, they would be a formidable force on the local racing scene. After spending some time recovering from injuries, they re-evaluate.
Yes, this is the riskiest and most frustrating of masters categories. You remember when running was easy and free –– when "the float" happened just about every day. (Ok, so maybe that's a selective memory.) Now, however, you feel that you are putting in ever more effort for ever more limited results. You want to get in form quickly and you find you enjoy the thrill of competition, so you allow yourself to overtrain and maybe get into a cycle of serial racing.
My advice: be patient. The high intensity training you remember doing (and initially think you need to engage in) may not serve your aging body well. You are headed to the top of the mountain but you cannot get there in a day. Think much more about rest and recovery –– and then actually do it. (Repeat this mantra: "I am not racing every weekend, I am not racing every weekend, I am not racing every weekend.")
Tissues take more time to repair and muscles now take longer to recover from workouts. To avoid injury and breakdown, you will want to do strength work, cross training, and core work.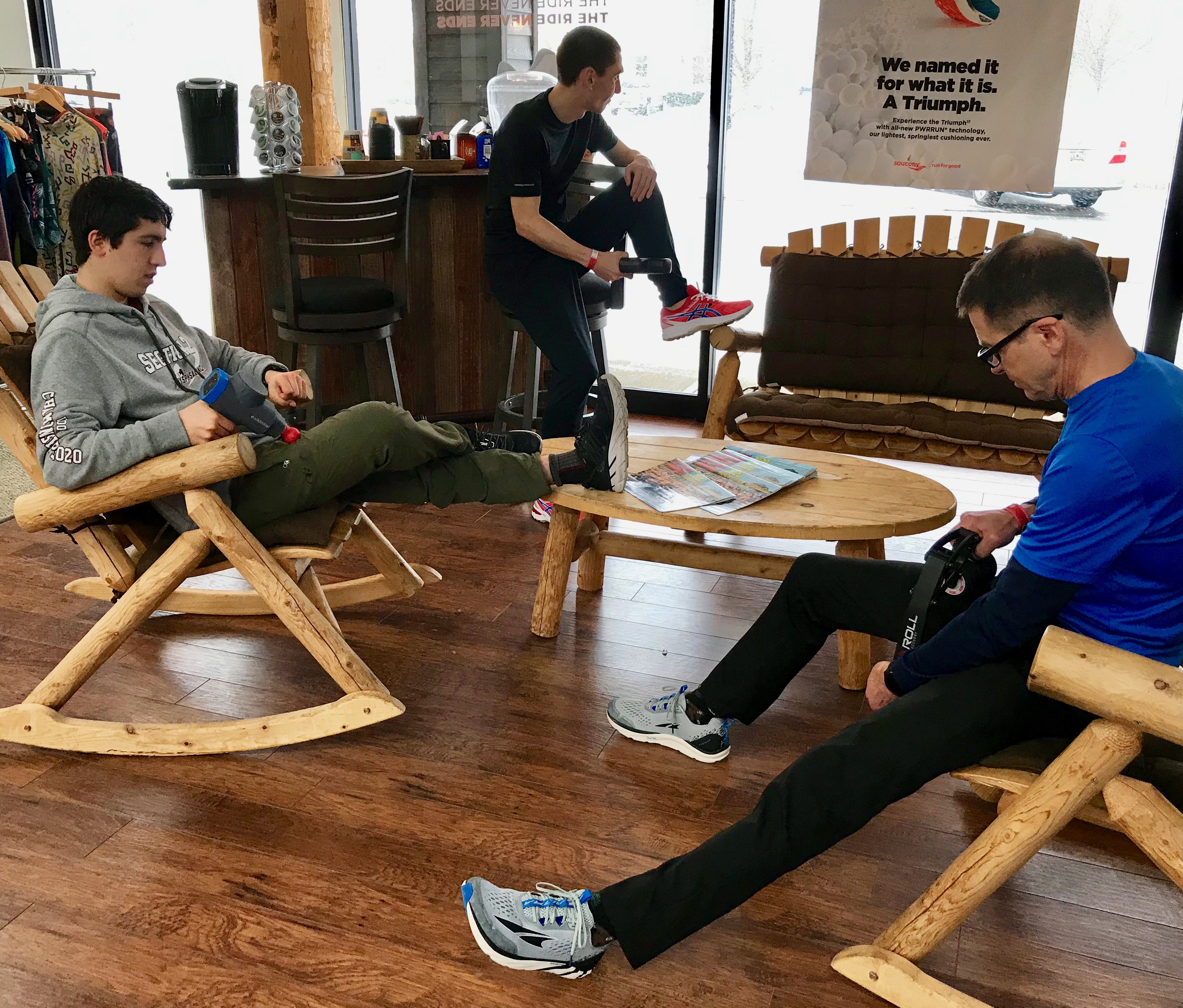 Become a fan of massage and try out Fleet Feet Albany and Malta's new Recovery Centers
Further, if you haven't been a big fan of stretching and massaging, you will now need to become a devotee. You will also need to work on two muscle groups that are sometimes the bane of the masters runner: calves and hip flexors. Tight calves lead to a whole host of injury issues, including the dreaded plantar fasciitis.
The good news is that with patience and smart training –– i.e. not overdoing and giving yourself adequate recovery time –– some new PRs might be on the horizon. Why might this be the case? Well, you have participated in intense training in the past, know what it feels like, and also know what is required to run quickly. However, unlike the runner for life, the relative lack of wear on your joints and tendons actually is somewhat of an advantage. As with the first category of masters runner, though, you may need to move up in distance to find ego satisfaction.
The True Beginner
Finally, the third category of masters runner offers the greatest of opportunities for running success (if success is measured by improving one's times over distance…). These are people who only started running after the age of forty –– they started as masters runners, finding the joy later in life.
Here, the lack of accumulated mileage and running injuries can result in swift and significant improvement. These runners don't have old PRs and memories of swifter times to haunt their running. These runners are more prone to seek out advice and support –– and actually listen to it and apply it to their own running practice. They truly merge age and wisdom with good results.
In fact, being late to the party can have serious advantages. Kathy Martin, for example, a real estate agent from Long Island, only began running in her thirties and only really began to train seriously when she hit forty. Martin quickly discovered that she had an aptitude for racing and now owns a host of U.S. and World age-group records, including the outdoor mile record of 5:42:65 that she set in 2013. Martin was also named USATF athlete of the week on November 12, 2014, after she won the Masters 5K Cross Country Championships in Carmel, Indiana. Her age-graded times usually rank in the upper 90%.
So, if you are older and just starting to run, you might find, like Kathy Martin, that you have a real aptitude for it. In any case, with every race, you will be setting PRs and as you add mileage and start doing some speed work, you will find those PRs dropping, perhaps well into your fifties and sixties
Kathy Martin –– blazing fast in her sixties
A Final Word About Success and the Masters Runner
Ultimately, it is important to remember that each category of masters runner presents unique challenges, but also new opportunities to redefine success as something other than breaking the tape first. For the runner who never stopped, success might mean cultivating a greater appreciation of one's own evolution ­–– reflecting on the lessons learned from the dedication to the sport over time and the feelings of good fortune that result from being able to "keep on keeping on." For those who ran in high school and then took some time off, success might now mean learning new tricks, getting out of one's comfort zone, and overcoming the temptation just to let the glory days stay in the past. Finally, for the masters runner who is just starting out on their running journey, it might mean discovering the joys of running, inspiring and being inspired by other runners, and fulfilling one's own possibilities.