Thinking about joining the Fleet Feet Albany 13.1 or 26.2 training program? We've got a new coach! Todd Baum has completed more than 45 ultra-marathons (and medaled in many) over the past two decades, making him particularly qualified to train our Albany distance runners. He is certified as a coach through both USATF and the Road Runners Club of America. His professional nursing background brings a high level of personal care to those whom he coaches.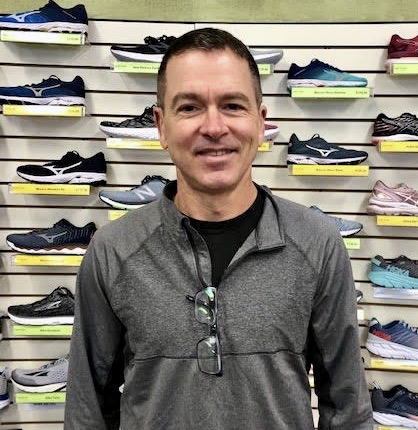 We asked Todd some questions to help shed some light on his training philosophies and to more fully explain what to expect in the 13.1 and 26.2 programs. If you need some guidance to tackle these distances (and really, who doesn't?), joining up with the 13.1 and 26.2 programs will help you achieve your goals.
Let's get started:
Could you briefly discuss the training theories that inform or guide your coaching?
It isn't easy to answer that without taking a deep dive into many topics. It's a good question, but a brief answer will put me in a category. Coaching is a partnership, a collaboration. I don't like to take the expert role, and I'm not hard driving. I like to facilitate a runner's own faculty to change, make decisions, and fit running into their life in a way that is sustainable and fun. I will say that the saying, "No Pain, No Gain," is a lie. I do encourage slow easy daily runs. Generally, runners come to me running too fast, beyond their maximum aerobic heart rate or ventilatory threshold. Fast running has its place, but the runner and coach need to titrate the dose carefully.
Where should a potential participant be in their training at the start of the program? What type fo running base do you need at the program's start?
Most half marathons and marathons have liberal cut-offs, so a walking/running strategy will get you to the finish. Our training program coordinator has asked for runners with a base of 20 miles a week of running. More importantly, I want runners to ask themselves, "Why would I want to do this? If I want to add this much running to my life, what things do I want to subtract from my life to allow for the running?" You can't add this without understanding that you will have to make decisions about what time you have for exercise, recovery, career, and relationships.
When does the program start and how many weeks are in the program? How many coached workouts a week can a participant expect? Do you have some goal races that a participant should consider upon the completion of the program?
The program starts Thursday, February 27, and ends Sunday, May 24 –– Memorial Day weekend. It is a 12-week training block. Coached workouts include a Thursday evening effort-based workout and a Sunday long run. The Vermont City Marathon and Relay is May 24. That is a good race. I will, however, coach to accommodate any races runners have during the training block or in the future.
How many days a week should a runner expect to run during your program?
I'm a strong proponent of daily runs, but I don't have a "My way or the highway" approach. I will collaborate with each runner. There is more to life than exercise.
What's your favorite half or full marathon that you have run?
Every race has its own personality and I appreciate the effort volunteers and race directors put into the races. I don't really have a favorite, though I have run the JFK 50 miler 11 years in a row. That race has meant a lot to me.
What's you favorite type of workout?
The long run.
Do you think cross training is important during a training period leading up to a race?
A recent study looked at two cohorts preparing for the NYC marathon. One group incorporated a strengthening regimen. Both had the same injury rate, Cross training isn't necessarily important, but if a runner loves weight lifting or Zumba, etc., they need to decide how much time they want to spend exercising. I do like to include a few strengthening exercises at the end of a run that addresses a runner's posture, strength, and balance. I don't know how necessary that is, but it's fun.
What are your thoughts on nutrition on long runs and during the actual goal race?
I have studied nutrition extensively. I don't like to make blanket recommendations in this area. It's very individualized. I think you're asking me about sugar supplementation during long runs. For nearly 50 years, the sport has embraced sugar as a performance enhancer or ergogenic aid. More recently, we have evidence that like any performance enhancer, sugar has a down side in terms of insulin resistance, inflammation, and GI distress. I'm more concerned that runners are eating enough whole unprocessed foods day in and day out, less so about what is consumed during a long run. There is more and more evidence that runners can utilize fat stores, preserving liver and muscle glycogen, while using much smaller doses of exogenous sugar.
Are there any special shoes that the participant needs for the program and do you think having a special race shoe different from the one that a participant uses in training is important or necessary?
I encourage runners to keep track of their shoe mileage. Also be sure to keep at least two shoes in rotation and not necessarily the same model or brand. So, you're running in a shoe with 150-200 miles and a new shoe. So you're putting a new shoe in rotation every 150-200 miles. When I speak of less shoe or more shoe, I'm talking about cushion and stability. For faster runners, one shoe should be of the "less" shoe variety and the other should be of the "more" shoe variety. As a race approaches, I like to be sure I have a relatively new shoe that I want to race in, as well as a new pair of socks for the race.
Thanks for addressing all these questions, Todd. This has been very informative and we are looking forward to you leading our 13.1 and 26.2 programs in Albany.