Our enthusiastic Fleet Feet outfitters offer individual attention and broad knowledge to everyone who walks through our doors. Whether you run, walk, seek a solution to pain, or simply need advice and motivation to lead a more active lifestyle, our experts can help!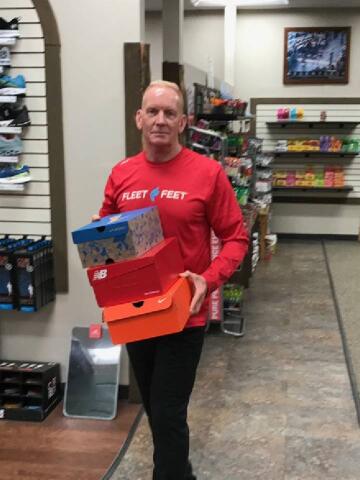 Dale Broomhead (Albany)
Albany 5K Advanced and 10K Coach
Dale began working at Fleet Feet in the spring of 2014. He began running in high school to train for football and basketball and really enjoyed it. He continued running while in college at SUNY-Cortland and still enjoys it today. His favorite thing about running is the feeling you have after a run. His favorite place to run is at the University of Albany and Lions Park. Dale's favorite distances and races are the Troy Turkey Trot 10K and the Kinderhook OK 5K. Dale enjoys the people he works with at Fleet Feet Albany and also enjoys coaching FFDP participants. He grew up in Lansingburgh and was lucky to teach physical education and coach XC and track for 36 years. The sport of running leads to many friendships and Dale's current coaching of adult runners in Fleet Feet Albany's 5K Advanced and 10K Programs continues that trend. Dale's favorite product in the store are Feetures Socks — Try them on!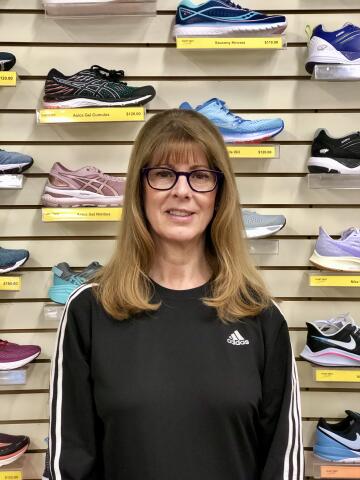 Patti Clark (Malta)
Training Program Coordinator, Albany & Malta
Patti has been with Fleet Feet in the Capital Region since 2006, and now works as both a Fit Associate and directing the training programs for both the Albany and Malta stores. When she's not busy with Fleet Feet, she enjoys strength training, antiques, summer campfires and chocolate. A native of Galway, New York, she particularly enjoys running in the Saratoga Spa State Park and her favorite product in the store is Balega socks.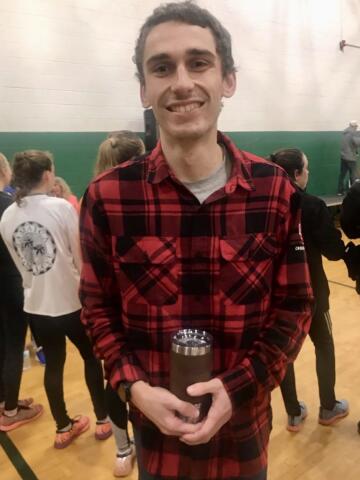 Ben Fazio (Albany)
Inventory Buyer, Fit Associate
Ben started running at the age of nine because it was the one thing he did well in the outfield. One of his favorite things about running is seeing how many things he can find on the road and take home with him. His favorite place to run is in the Pittstown State Forest. Ben's favorite racing distance is the indoor 3K. He started working at Fleet Feet Albany in 2015 and has a "problem" of buying too many running shoes, so to put that to good use at work is "a dream come true." When he's not running, Ben spends his time on crossword puzzles. He hails from the smallest state in the union and attended college at RPI. His favorite product in the store are Night Runners, because he spends a lot of time running at night.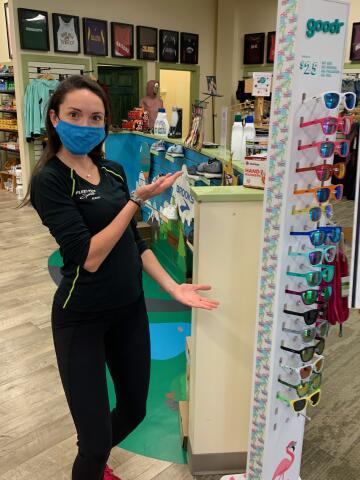 Allie Fernandez (Malta)
Fit Associate
Allie Fernandez ran for Burnt Hills-Ballston Lake High School and graduated in 2015. She got into running because both of her older brothers ran and they piqued her interest! She loves running because it allows her to challenge herself and allows her to clear her head. Allie also ran throughout undergrad for SUNY Geneseo and now runs for fun while in graduate school for Physical Therapy. Her favorite place to run in the Capital Region is the Zim Smith bike path in Round Lake. Allie currently runs in the Nike Pegasus 36 and her favorite post-exercise snack is a smoothie. She enjoys working for Fleet Feet because it allows her to make connections with her customers. She loves being able to help others make the most of a sport that she loves. Allie's current favorite product is the Garmin Forerunner 245 GPS watch! When she's not running, Allie likes to watch Netflix, play board games, nap, and spend time with her family. Her favorite vacation destinations so far have been two trips to Europe: Spain and Germany! Allie adds, "People probably don't know that I have worked at the Fleet Feet Malta store since it opened in the Fall of 2013! I worked weekends throughout high school and now I work when I'm back in town from college."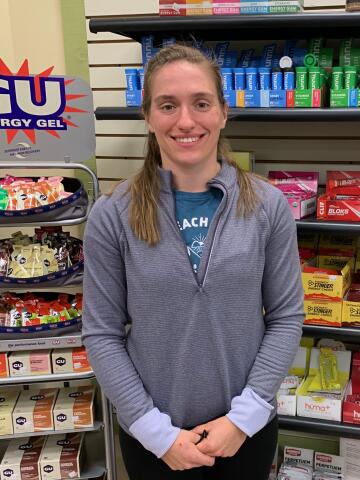 Morgan Hummel (Malta)
Fit Associate
Morgan Hummel's main sport is rowing but she loves to run for fun. Morgan developed her love of running in high school when she joined her high school track and field team: "Running is great because you can go on fun adventures with you and friends or just yourself. Running also is a great stress reliever and it really helped me to find out more of what I am capable of." Morgan's favorite place to run is around the Saratoga Battlefield. The pandemic actually caused her to focus more on her fitness habits and she started running more because it helped her get out of the house. Morgan's main sport is rowing. She coaches middle school rowing for the Saratoga Rowing Association and she is also a member of their elite rowing team — Arion. After working out, Morgan's favorite snack is dark chocolate almond milk. Morgan likes to work at Fleet Feet to hear people's running stories, while fitting them for shoes. She also loves working with her fellow employees. Her current favorite product is the Nuun hydration exercise tablets. When not working out, Morgan loves to hangout with her friends and teammates and have cookouts, play games, and just enjoy each other's company. Her favorite vacation spot is Maui, Hawaii. Something people probably don't know about Morgan is that she has a twin (who looks nothing like her) and that she will be competing in the ironman world championships next fall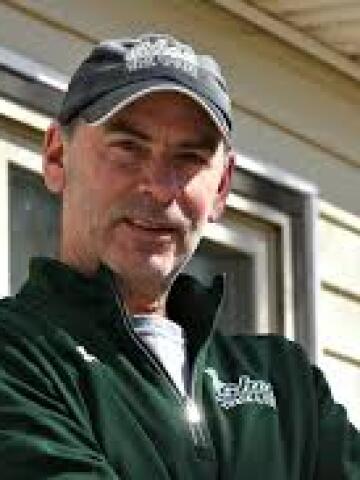 Keith Jordan (Malta)
Store Manager, Malta
Keith Jordan likes the simplicity and calmness of running, particularly at the Saratoga Spa State Park. He favors distances between 800-meters and 5K. When not managing our Malta store, Keith coaches XC and track at Shenendehowa High School in Clifton Park, where he has helped athletes to progress since 2011. A runner in high school in Millis, Massachusetts, and in college at UMASS, Keith moved to the Capital Region in 1989 and began working at Fleet Feet Malta in 2013. While he has many favorite products in the store, at the top of his list right now is the Aftershokz headset.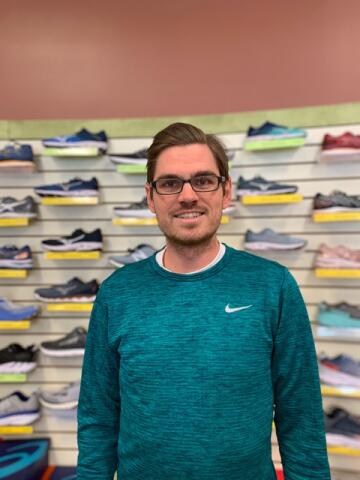 John Kenworthy (Malta)
Fit Associate
When he's not working at Fleet Feet Malta, John Kenworthy is the Head Coach for Men's and Women's XC and Track at Siena College. John grew up in Gloversville and ran for 6 years at Gloversville High and then at Sacred Heart University in Fairfield, Connecticut, from 2005-2010. John muses, "As an athlete, my favorite part of running was getting out the door every day with some of my closest friends. The time you spend running with someone builds a bond unlike any other. Over the years, I've come to appreciate where running has brought me personally, physically, and geographically as an athlete and a coach. I've seen so much of the world through runs and travelling for running." His top local spot to run is the Vischer Ferry Preserve. John joined Fleet Feet in the fall of 2016 and his favorite product in the store, by far, is the Honey Stinger Vanilla Waffles.
Cassie McLaughlin (Malta)
Fit Associate
Cassie McLaughlin, a resident of Clifton Park and currently a student at Shenendehowa High School, started running by joining the outdoor track team in 2017. She now runs cross-country and track. "I love the feeling you get after running. along with the fact that all you need is a pair of sneakers to pursue the sport," says Cassie. Her favorite place to run is the Saratoga Battlefield (Saratoga National Historical Park). She enjoys racing the 5K distance as well as the 800 meter event during outdoor track. Outside of running, she likes to cook and enjoys learning about science/biology. Saucony's Freedom ISO is her favorite shoe.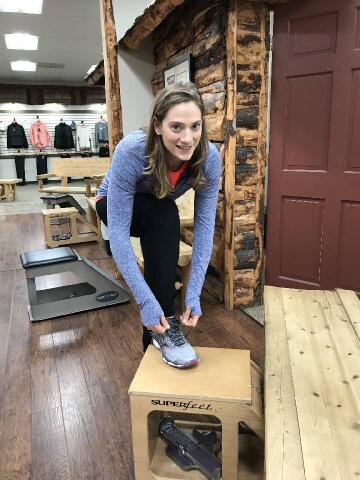 Taylor Mead (Albany)
Fit Associate
Taylor has been working at Fleet Feet since September 2015. She was introduced to running in fifth grade when she ran the Freihofer's Run for Women 5K with her mom. It was only, however, during high school that she really began to love running. Taylor is a sprinter at heart, but alternates between the 5K and the half marathon as her current favorite racing distances. She really enjoys helping people with their running questions and her experience coaching track at Guilderland helps her to precisely address those questions. In addition to coaching, Taylor goes to crossfit and plays with her German Shepherd — Ace! Taylor graduated from Marist College. Her favorite product at Fleet Feet are compression socks which help a lot with her sprinter calves that are always tight.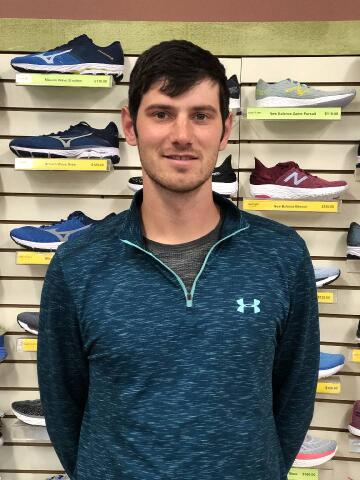 Nick Miller (Malta)
Fit Associate
Nick Miller's favorite thing about running is the camaraderie. He's been a runner since the 7th grade and enjoys running on the dirt roads outside of Troy. Nick grew up in Endwell, New York, where he ran for Maine-Endwell High School and then he ran at Siena College. A big fan of the 2k distance, when he's not working at Fleet Feet, Nick is an assistant track and XC coach at Siena. Nick has worked at Fleet Feet since 2016 and his favorite product is the Vanilla Honey Stinger Waffle in the nutrition section of the store.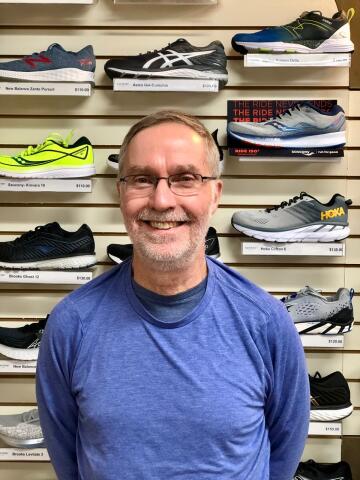 Jack Nabozny (Albany)
Fit Associate
Jack has been working at Fleet Feet Albany since 2015. He started running in ninth grade when his friends all started running for a school team. His favorite place to run is in Olana and his preferred race distance is either 10K or 15K. When not running and working at Fleet Feet, Jack enjoys spending time with his family and friends. He particularly likes hanging out with his grandchildren. Jack is from Hudson, New York.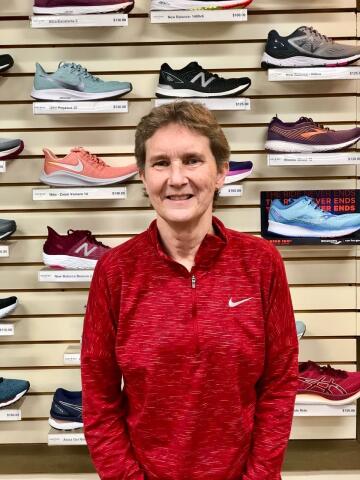 Janice Phoenix (Albany)
Store Manager, Albany
Janice Phoenix joined our team in 2007 and she enjoys meeting new people and working with great employees at Fleet Feet Albany. She started running as a way to keep in shape and likes the solitude of the sport. Her preferred race distance is the 15K, where she finds the Maurten Gel nutrition products make running a little easier. When she's not at Fleet Feet or running, Janice occasionally works for a law firm. She grew up in Schenectady.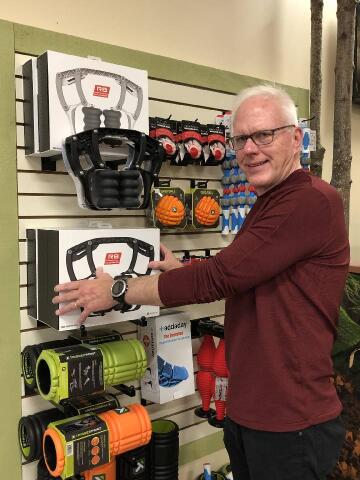 Dave Powers (Malta)
Fit Associate
The sights, smells, and sensations from being outside are what intrigue Dave Powers when he's out for a run. His favorite distance is the 5K. He began running while in college, to train for competitive rowing at Boston University. When not running, Dave continues to row and also is very involved with the cycling community, distributing high-end bicycles and related accessories. Dave grew up in Schenectady, worked internationally, and returned to the Capital Region with his family in 2006. He has worked at Fleet Feet since 2018. His favorite product is the New Balance Fresh Foam More.
TJ Randall (Albany)
Fit Associate
TJ Randall, who will graduate from Shaker High School in 2020, started working at Fleet Feet in 2018. He has been running since 7th grade, when a coach asked him to join the team. He runs cross-country, indoor and outdoor track for his high school and his favorite distance is the mile. On his feet, TJ is a big fan of the Mizuno Wave Rider.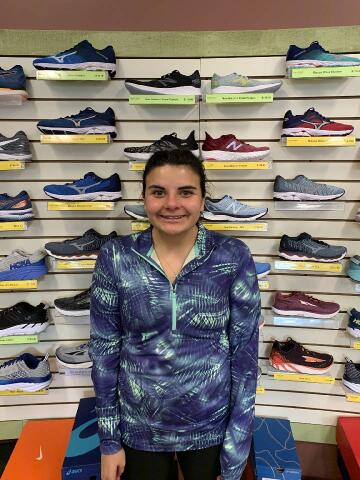 Samantha Simmons (Malta)
Fit Associate
A native of Troy, Samantha Simmons started running in middle school for the modified track team and pursued both cross-country and track at Mechanicville High School. She loves the way running clears her mind, and her favorite place to run is the Saratoga Spa State Park. She has worked at Fleet Feet Malta since 2019 and her favorite race distance is the half marathon, because there is enough time to make strategic moves but also have fun. Outside of work and running, Samantha likes to attend concerts and different events with friends. Her current running goal is to train strong throughout the winter in her favorite product, the New Balance 880.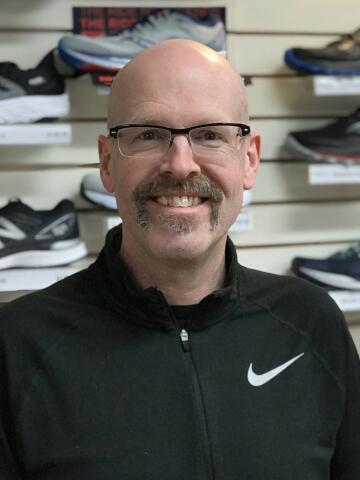 John Williams-Searle (Albany)
Director of Marketing
John has been working at Fleet Feet Albany for a little over six years. He started running in middle school as a way to get in shape for soccer and soon figured out that he liked running better. One of his favorite things about the sport is when you achieve "flow" on a run — there is really nothing quite like it. One of his favorite places to run is along the Corning bike path; also running along the beach, which he doesn't get to do often enough. His favorite race distance is five miles — you've got to train for speed and endurance. His favorite thing about working at Fleet Feet Albany is figuring out various fit conundrums and then getting customers into a comfortable pair of running shoes. He also really enjoys launching new runners on their journey. In his spare time, John enjoys watching films, sci-fi television, reading, and cooking. He is originally from Rochester, New York, and went to college at Oberlin, Ohio, and graduate school at the University of Iowa. His current favorite product in the store — it is hard to choose just one — are Maurten gels. They are rather miraculous.
Eric Young (Albany)
Fit Associate
After realizing he was one of the faster kids in his neighborhood, Eric Young took up running in eighth grade and joined the modified cross country team. He likes how running makes him feel physically as well as mentally. Eric's favorite places to run are Lions Park and the University of Albany track. Outside of working at Fleet Feet Albany, where he enjoys listening to customers' backgrounds, running with the Fleet Feet Running Club and the training groups, and hanging out with his awesome co-workers, Eric likes spending time with family and friends. Eric is a huge Philadelphia Eagles fan – "Fly Eagles Fly!" – and manages to go once or twice a year to watch them play. He's from Latham, New York, and graduated from Shaker High School and Hudson Valley Community College. Eric is a big fan of the NUUN product line, which helps him with his workouts, as well as recovery.